Find out what steps to take now to be in compliance with the DoD's new security standards.
Change is knocking at the door. The companies who take proactive measures now will be best positioned to maintain and win DoD contracts.
In the past, if your company complied with a self-assessment for the Defense Federal Acquisition Regulation Supplement (DFARS) program, that was sufficient. But if you are hoping to bid on DoD contracts in late 2020, you must be prepared to implement a new Cybersecurity Maturity Model Certification (CMMC).
Depending on how well you managed your DFARS and NIST SP 800-171 requirements, a significant amount of work may be ahead of you in order to avoid costly repercussions of a failed audit.
What's more, these standards can only be met through a third-party certification.
The good news is that help is out there. Charles IT's own Michael Bailie, CISSP and Team Lead, explains what actions you can take now and answers your most pressing questions in this interactive webinar. You'll learn exactly what this shift will mean to your company so that you can get back to business.
This webinar examines each aspect of CMMC certification process, including how a Gap Analysis can help you determine where you stand now. Our expert answers your urgent questions, including:
How did CMMC come about?

What is the timeline for the CMMC rollout?

What is required for CMMC levels 1-5, and where should my company aim?

What is a Gap Analysis and why do you need one?

How do you interpret NIST 800-171 standards to establish a baseline for compliance?


Watch this webinar now to ensure your company will meet the challenges of tomorrow.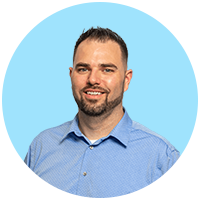 Mike Bailie
Team Lead & Project Manager
Charles IT