A Complete Guide to the DoD's New Security Compliance Standards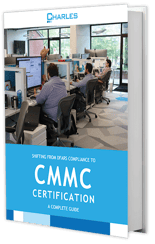 Department of Defense (DoD) contractors routinely handle highly sensitive confidential information. Recently, disastrous breaches have jeopardized personally identifiable information. Contractors who were supposed to comply with a self-assessment for the Defense Federal Acquisition Regulation Supplement (DFARS) program were rarely doing so. As a result, the DoD is implementing a new Cyber Mature Model Certification (CMMC)— importantly, it can be achieved only through third-party certification.
What does this mean for your company?
If you are hoping to bid on or be renewed for DoD contracts in the Fall of 2020, you should start on your CMMC certification process today. Depending on how well you managed your DFARS and NIST SP 800-171 requirements, a significant amount of work may be ahead of you.
That's where we can help.
Our guide breaks down every step of the CMMC certification process, including the five different levels and security requirements outlined in NIST SP 800-171.
Discover answers to essential questions, including:

Who needs CMMC certification?

How does CMMC certification differ from DFARS compliance?

What level of CMMC certification must your company achieve?

What are the security controls required for each level, and where should my company aim?

When will CMMC changes occur?

What kind of support is required to prepare for CMMC certification?
Download our eBook today to ensure your company is prepared to meet the challenges of tomorrow.